Do you want to learn Spanish but maybe you do not have the time to come for a regular class to Hispanic Horizons or you do not live in Mumbai or in New Delhi?
You can benefit from our Spanish Lessons Online via our E-learning platform from the comfort and convenience of your office or home. We offer you top notch online Spanish lessons.
In Hispanic Horizons, we offer General Spanish Courses online for the following international levels of CEFR: A1, A2, B1 and B2 of around four/five months duration each. If a person wants to study a higher level online (C1/C2), it can be done individually via Skype. We also have  Specialized Spanish courses online such as Spanish writing courses, etc.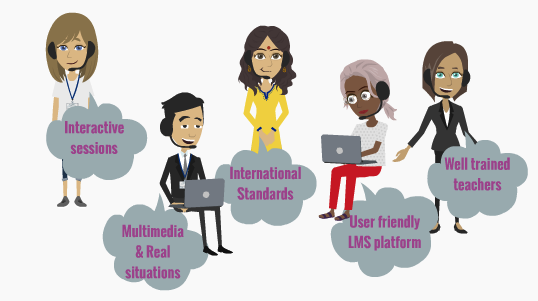 The LMS platform is user friendly and every single lesson gives the student the  opportunity to practice speaking Spanish and written Spanish as well in real situations. Each course and level has the necessary material, exercises and multimedia to practice all the Spanish language skills (oral and written comprehension, oral and written expression, grammar and vocabulary).  The courses are very interactive and there are continuous  online assignmnets  to evaluate the progress of the student and to  reinforce whatever has been taught. There are also forums which take place to discuss different topics, to foster the interactions among the students and with the teacher and to clarify the questions of the students. Besides, the teacher is available via email or Skype at specific times if the student needs her/him. There are 4 conversation classes in one level to practice the contents along the level.
Our E-Learning Courses require a constant work and discipline from the side of the student.  The very well trained teachers will constantly follow up their work and their needs.
There is a deadline for the completion of each module and one cannot go ahead to the next lesson without having completed the previous ones. The course will be opened for 7 months from the date of commencement of the course. This will give the necessary time to the students to finish their course and revise it.
At the satisfactory completion of the course, the student will receive a certificate. We are an accredited examination center of DELE (Instituto Cervantes), DIE (Fidescu) and Specialized Spanish (Chamber of Commerce, Madrid) and our certificates carry the logos of those institutions too. The evaluation includes the completion of the assignments and the participation in the forums as well as an oral examination via Skype and a written examination in the platform.
Many people have learnt really well using this methodology. See the testimonials of some of our online students here. Why do not you give it a try? There are many benefits of studying online.
Click here to know about the next scheduled online courses.
Click here to login in the E-Learning platform.
SaveSaveSaveSaveSaveSave
SaveSave