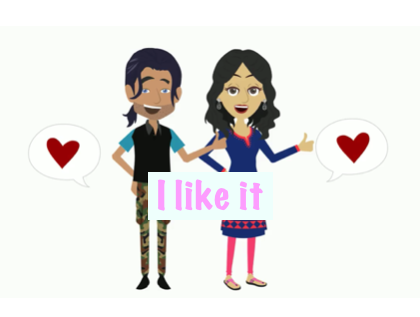 Testimonials for the General Spanish Courses
Manjiri Datar; 58 years old. Dadar West, Mumbai (India)
I have been with Hispanic Horizons for 3 months under the dedicated and valuable guidance of one of the teachers. I was extremely hesitant about learning a new language at the age of 58, but my teacher has made my Spanish journey extremely easy and beautiful. This institute has given me the comfort and confidence about learning something new at any age.  My special 'Thanks' to my teacher and the entire team for making this a memorable experience.
Gavin Fernandes; 29 years old. Vashi, Mumbai  (India)
Amongst everything I know or am capable off, language is definitely not my strength. When a friend suggested Hispanic Horizons to me, I was not sure whether it would be just "another one of those attempts" to learn another language. But I must mention that HH is by far one of the best language training institutes I have come across. The teachers are fantastic, wonderfully understanding of each student's capabilities and thoroughly focused on making  a difference to our Spanish speaking acumen. The course is brillaintly structured and highly professional; to give you a small example – i recently watched a Spanish documentary and could actually figure out a few parts of it – this within 2 months of basic level 1 training !! I am sure I will continue to learn Spanish here, inspite of a very hectic work routine.
Om Lohar; 18 years old. Kalyan  (India)
I'm in 6th level (B2.2) in HH. It was amazing that I didn't even realize how my level of Spanish has been continuously improving. We have got the Best Spanish professors here The textbooks are awesome, the ambiance is soothing and the classes are fully equipped to fulfill our needs with video and book libraries. For me, the location of the class matters as well; need not say  more! I am willing to complete all the levels
Shalini Ray; 36 years old. BKC, Mumbai  (India)
I joined Hispanic Horizons for the Second Level and am extremely happy with my decision. The teachers are extremely good and helpful and give you personalised attention. The classes are structured in a way that the learning is fun and interactive with adequate opportunity to practise speaking. We are also exposed to a lot Spanish and Latin American culture which is an essential part of learning the language.
Meena Deorah; 55 years old. Worli, Mumbai  (India)
I have been studying in Hispanic Horizons since 4 months and they have a very different and efficient  approach towards teaching. The students are not burdened at all. Our professor is very friendly and approachable ensuring that we learn and enjoy at the same time.
Priya Singh; Dadar, Mumbai  (India)
I have just completed 6th level,(B2.1) in Hispanic Horizons. I have learnt a lot here and it has been fun learning here. The teachers are so helpful here,they provide all kinds of facility, encouragement, guidance and show easy ways of learning and ensure that you learn Spanish. I recommend this Institute to all those who are interested in learning the foreign language.
Dr Koulsoum Houssein; 55 years old. Juhu, Mumbai  (India)
My name is Ms Koulsoum Houssein. I am a doctor in medicine and with a group of friends we have joined  Spanish classes on Sundays at "Hispanic Horizons". I enjoy going to the classes. I find the course well designed and practical and the way of teaching very lively and interesting. Keep it up!
Hetal Vora; 38 years old. Ville Parle, Mumbai  (India)
Hi, I am a student of Hispanic Horizons & currently studying level 4 . I have had a wonderful learning experience at this institute. At this place one encounters perfectly learned & experienced teachers to guide the students. The teachers are passionate, persistent & ensure that one receives correct & complete knowledge of Spanish as a language. Here I have learnt & currently learning the perfect skills of Conversational Spanish. The teachers are primarily focused on educating the students, they are full of vigour & enthusiasm as well as amazingly patient . They deliver the lecture in a captivating way which keeps the class in full spirit & cultivates an interest to learn more & more about this wonderful language. To conclude with in a nutshell "THIS IS THE DESTINATION TO LEARN SPANISH".
Avril De Mello; 35 years old. Mahim, Mumbai  (India)
¡Hola! I have just completed Level 1 at Hispanic Horizons. Every class was filled with fun, interactive sessions which encouraged the students to speak in Spanish and also gave us an insight into Spanish culture. My teacher's passion for the language enhanced my interest in it and made my experience a truly enjoyable and enriching one. I am looking forward to attending the next level.
Delia Sarah D'mello; 23 years old. Bandra, Mumbai  (India)
I have completed Spanish level 1 at Hispanic Horizons and at the moment I am on level 2. Hispanic Horizons is a great institute for learning Spanish. The atmosphere for learning is quite good, and the teaching staff is quite experienced and teach well with a lot of interactive sessions including audio and videos. I have enjoyed the past few months at the institute and wish to complete all the levels here.
Ansh Nasta; 16 years old. Mahim, Mumbai  (India)
Hola! My name is Ansh Nasta and I'm a class 11 student of Dhirubhai Ambani International School. I completed my the first level (A1) here. I really enjoyed the entire course. The atmosphere was casual and comfortable. I was told that I was really lucky to have Señora Blanca as my teacher because she was a brilliant and very experienced teacher. Learning spanish here made a foundation for the language in me and helped me do well in spanish in school. I strongly recommend that u join Hispanic Horizons
Kanchan Rawale; 25 years old. Dadar, Mumbai  (India)
What I like about this institute is the practice given- be it conversation, grammar or regularly writing essays. Everyday we're encouraged to speak in Spanish. The teachers are extremely helpful & affable. The grammar is taught so well that one doesn't need to open the book again. One not only learns the language but also the culture. Sometimes we play games like "Spanish Taboo" which is a fun way to learn. I'm sure, learning here, you will come to love the language, just like me.
Larissa D'Silva; 40 years old. Mahim, Mumbai  (India)
Without any say, this institute, will surely expand in no time and be extremely successful with all of the knowledge, warmth and affection you all keep sharing with your students. Muchas gracias once again.
Vanessa Damani; 33 years old. Mahim, Mumbai  (India)
Hola A Todos, I Have Recently Completed Level 2 And Am So Glad I Pushed Myself To Enroll With Hispanic Horizons. I Can Now Proudly Say At Least I Have Basic Knowledge Of The Language And Whenever I Watch A Spanish Program On Television, I Am All Excited And Elated That I Can Figure Out Quite A Few Words And At Least, I Can Follow What Is Going On. Thank You To My Teacher From Level 1 And Cant Wait To Begin Level 3 Next Month. The Course Is Well Structured, Easy To Grasp, The Classes Are Fun And I Am Glad I Made Up My Mind To Enroll. Mil Gracias Hh!!!
Tracy Fernandes; 27 years old. Andheri East, Mumbai  (India)
Studying at Hispanic Horizons was great. The classes were very practical an interactive and allowed you to learn the language by using it. I had a very good professor too. Thanks Kastu. The material provided was complete and useful. Looking forward to my next level (4th level) at Hispanic Horizons.
Arpita Pereira, 20 years old, Bandra West, Mumbai  (India)
Hispanic Horizons goes beyond just teaching the Spanish language as they also provide an insight into Hispanic culture. Teachers are extremely helpful and cater to the needs of each student. The atmosphere is very student friendly. I`m currently in level 3 and I absolutely every class:-)
Namrata Dalal; Worli, Mumbai  (India)
For me its the best institute for learning Spanish. They adopt a holistic approach so you can learn a lot about its culture, traditions, art, festivals, Hispanic countries, etc. apart from just the language learning..The teachers are so kind and well aware of their subject matter and they ensure that no student goes home with a doubt in his mind. Currently doing level 7 and planning to continue even further. Kudos Hispanic Horizons
Natasha Rolston; Thane  (India)
I have been studying at the institute for months now, and each time I proceed to the next level, the experience keeps getting better. For me, there can be no other better place to learn the language. The professors are amazing!! So if you wanna learn Spanish in a fun-creative manner, with excellent professors and an apt ambiance, then this is the place where you should be!!
Chahal Sandh; 28 years old, Bhandup, Mumbai  (India)
I joined Hispanic Horizons for level 5 and currently I am in level 6. My experience here has been so good that I am planning to do the remaining levels here. The teachers are experienced, patient, encouraging and very helpful. The courses have been designed in such a way that equal attention is paid to all aspects of learning a language i.e. speaking, reading, writing and listening comprehension. Also, they take care to familiarize the students with the culture, customs and traditions of Spain and Latin America. The classes are interactive and fun .The atmosphere is conducive to learning, the study material provided is great and the institute is equipped with a library. In a nutshell, Hispanic Horizons is a great place to learn Spanish.
Leena Gupte; Kalyan  (India)
"Hispanic Horizons" its the best place to learn Spanish. The teachers are experienced and have a very good knowledge about the language. We don`t only learn what the book contains.. but also we discuss many issues. We have a lot of conversations in Spanish. A good practice of talking in Spanish is done in the class. I think that`s the best way of learning a foreign language. My experience in this institute is really good. I would thank Blanca the director of the institute and would definitely say.."You want to learn Spanish" what are you waiting for. Here`s Hispanic Horizons for you.
Shreya Samant; 18 years old, Goregaon, Mumbai  (India)
Hispanic Horizons is the kind of place which lets you learn the beautiful language at your own pace. The teachers are excellent and very knowledgeable! We have a lot of discussions, book reviews, audios in class instead of just rote learning from the book. The place is easily accessible and spacious. My experience in Hispanic Horizons has been very pleasurable and I would definitely suggest this institute for leaning Spanish!
Savita Joshi; Goregoan East, Mumbai  (India)
Hola a Todos, I am a very happy student of Hispanic Horizons since last 8 months because of the highly effective teachers, and so helpful and kind, they provide all kinds of facility, encouragement, and guidance to learn Spanish curriculum. Extremely energetic and encouraging teachers make the learning as an easy and enriching experience. Teachers emphasize greatly on our vocabulary, grammar and conversation skills to help us pick up the language at a quick pace. The methodology includes various student engagement activities like regular essay writing, presentations, situational conversations, skits and etc. Hispanic Horizon's well written books, well structured and paced curriculum, excellent collections of reference materials in their library are added advantages to one's learning. I would highly recommend Hispanic Horizons for all Spanish language aspirants, come, join, enjoy a memorable Spanish learning experience & go out as an expert Spanish Linguist. Muchas Gracias
Arun Khopkar; Filmmaker. Worli, Mumbai  (India)
I am now nearing my seventies. Studying languages has been a passion for me. I have studied Russian, German, Italian, French and some Japanese and have experience of language institutes in India and abroad. Now I am studying at the third level at the Hispanic Horizons and I could say that in terms of the dedication of the staff and their competence they are on par with institutions that have much larger financial and government backing. I made a trip to Spain after finishing my two-month first level course and was happy to discover that I had acquired a level Spanish, with which I was able to survive in parts of Spain where no English was spoken at all. We managed make hotel reservations, order our food (my wife is a strict vegetarian), find our way on Metro routes and make railway bookings. At the end of the second level I was able to read popular fiction in Spanish, especially as e-books, where some dictionary help is on hand. Learning at the Hispanic Horizons has not only been useful in terms of the knowledge of the language, but in terms of the friendly atmosphere in which you lose self conciousness and laugh even at your own mistakes, even howlers and learn to correct them– the best way to learn.
Prajakta Bhide, 21 years old. Thane (India)
5 years of learning spanish was a memorable journey…thank u so much Sharwari Apte for suggesting me to learn 5 years back..I am blessed to have teachers like Kasturi Prabhu and Blanca Dean who are not just best spanish teachers…they have been a guide, a motivator and the ones who can take all others along with them..very supportive…very helpful…very friendly..I remember the day kasturi said once.."I want to see you all graduating".. I remember the day when Blanca was so happy to see all of us passing DELE exams..hatts off to Hispanic Horizons for giving us the opportunity to appear for many international exams and many add on courses and broaden our horizons…last but not the least..mis amigossss..Namita.. Sagar.. Apurva Madkaikar, Om Lohar, Shamika Khare, Alok Damle, Archana Thakur.. Shreya Samant, Amber.. Gazala.. Avanti Dhamale, Kanchan.. fantasma no.1 samson.. finally graduated in spanish with level 10; C2..
Testimonials for the DELE Preparatory Courses
Andréan Lobo; 22 years old. Ghatkopar, Mumbai  (India)
Hola, I have just cleared my DELE B2 exams and I'm really happy with the DELE preparation course at Hispanic Horizons (HH). With the extensive DELE preparation I was able to prepare myself in all the areas of the examination. Also, I'm currently studying Business Spanish at HH and it's quite an experience. I would seriously recommend HH for learning Spanish because for its teachers and the teaching materials and methods and best of all a lot of attention is laid on speaking which is very important while learning a language. Perhaps, the best place to learn Spanish.
Mahek Shahani; 26 years old. Bandra, Mumbai  (India)
¡Hola! Learning Spanish with Hispanic Horizons (HH) is a fantastic experience and I vouch for it being a great school to learn Spanish in a nice and friendly ambiance. In 2012, I signed up with HH for the DELE exam preparation course and was extremely happy with their teaching methods and professionalism. The classes were well planned with topics and grammar lessons to be learned, along with homework sheets for further practice. Each class was a learning experience – not only about the language but also the culture. With their lessons and intensive DELE exam training, I was given an all-round guidance about the exam structure, focusing on important topics and working on my strengths and weaknesses. The teacher was very instrumental in helping me hone my Spanish speaking, listening and writing skills. Right from the 1st class I received excellent study material and I knew I had made the right choice. Muchas gracias once again!
Subha Ramachandran; 24 years old, Mulund, Mumbai  (India)
Hola a todos! Like any other foreign language student , I had ambitions of completing my Spanish course as well as excelling at International exams. One such international exam that has a deadly reputation is DELE. In the year 2012, I enrolled and successfully passed two international exams – DELE A2 and DELE B2 while I prepared at Hispanic Horizons (HH). The classes were conducted keeping in mind everyone's schedules and requirements. Personal attention is something that HH  excels at. The knack of a teacher to identify a student's strong areas and motivate and strengthen him/her further and at the same time tackle the weak section head on is very important. At HH I found an ideal combination of preparation and motivation. My weak areas which happened to be orals and writing section were handled very well during the course. Each DELE prep session, we would practice a good amount of impromptu oral mocks which gave me a lot of confidence to face this exam.  Apart from this, HH is abreast with the latest developments/happenings in the national and international Spanish circuit (be it exams, movies, books etc). They have excellent preparatory materials, knowledge, expertise and resources to prepare a student for any such competitive exams. I would personally recommend that if you wish to see yourself successfully clearing DELE , do enroll at HH  , use the excellent resources at HH and last but not the least work hard! Thank you HH
Testimonials for the Online Spanish Courses
Cynthia Liavule (Nairobi, Kenya), February 2017
In April 2015, I received news that I had received a scholarship to undertake my studies out of my country Kenya. I was delighted and so were my close friends and family. However, one worry lingered through my mind because the language of instruction for my studies would be Spanish. A good friend then recommended Hispanic Horizons to me. I got into contact but did not delve deep into study of the language because of prior preparations for my departure to Rome. Later on, once in Rome, I started the Spanish classes (levels A1 and A2 online). I write with immense gratitude to the patience, encouragement and constancy with which the professors helped me through the course.I came to terms with learning that like anything good in life, patience and constancy is key. The weekly conversations and assignments helped build a good foundation for the study of the language and yes,I must say Hispanic Horizons opened new horizons for me, both within and outside the classes. I remain indebted and grateful. Thankyou Blanca, Maribi and Pepa!
Bridith Peñaranda; Manila (Philippines)
I had several attempts to learn Spanish in different institutions (classroom setting, tutorials, and even online class). None could fit my needs and schedule. Then my office recommended HH online course. I found their teaching system good and suited to my needs. They provided me a flexible schedule but had parameters for discipline thru the weekly conversation with my online teacher.  The conversations were great learning moments. I loved the classes here.
Aishwarya Degaonkar; 18 years old, New Bombay  (India)
¡Hola! I did my 2nd level, A2.1 from Hispanic Horizons online. Yes, I did the level online and it was one of the best online learning platform I came across so far. I am well aware of the MOOCs (Massive Open Online Courses), but this platform was very different and well-designed. It was my first time to do any kind of learning online. We really had fun, there were two more students, and our tutor Blanca, with whom we had one one-to-one session each week. There were many forums to discuss, video and vocab dictionary and very didactic material. Blanca was available both on email and Skype whenever we want. Even though I went to Ladakh for 10 days vacation, I didn't miss as much as I could have if it were a classroom training. E-Learning Platform of HH is really very reliable, user friendly, and most importantly you feel very cozy because it is accessible anywhere you want! I would highly recommend to ANYONE even to those who just want to try. Every module is full of fun games, exercises, easy to understand videos, and much more. You will feel as if you are sitting in the class but in your pajamas! Kudos to the developer for making such lucid platform. And the entire HH team for putting efforts to make the platform so well defined and designed. Thank you HH!
Pia Lorenzo; Manila (Philippines)
Good day! Hispanic Horizons has been truly a great help in preparing me for my studies which require basic Spanish learning. For all of you who are reading this, I will present to you my reasons: 🙂
First and foremost, I find the online classes very practical and flexible as I can read and study the lessons any time I want. Vis-a-vis actual classes (as in actual classrooms) in which one still needs to go to the school, and thus needs to invest time to travel, with online classes, I was able to save up time and avoid those traffic jams. I just used this time instead to delve more into my  Spanish lessons.
Second, with the online conversation classes it is as if I was also in an actual classroom. Anyway, I just needed a friendly teacher who could coach me, converse with me and tell me my mistakes.
Third, the lessons of HH are well-studied and progressive that I did not find them too overwhelming or too easy – just right in other words. The pace is truly effective specially for a working person like me. I could also ask them any question or clarification that needed to be done, and on top of that, they would answer immediately.
Lastly, and which I think is the best reason, the staff of Hispanic Horizons are all accommodating and wonderful people. When students get discouraged and may seem want to stop from learning, it is the teachers of HH who do not know how to give up on their pupils. I thank them for all their words of encouragement and for their untiring effort to boost my zeal in learning Spanish. More than being teachers to me they have become trustworthy friends.
To Hispanic Horizons, I extend my best wishes. They are truly a big help! 🙂
Mary Grace Sedanza; Manila (Philippines)
I love your online classes. I plan to continue the next level of Spanish course in 2016. I cannot continue this year to the next level because i am finishing my academic units and thesis in my masteral course in Aquaculture. I would really love to enrol again in the program as it has helped me a lot in building confidence in my spanish comprehension and appreciation of the spanish culture and language. Thank you so much for all your patience. 
Grace Eleperia: Manila (Philippines)
The course is very interesting, friendly user, and very effective for one to learn the Spanish Language. I am currently doing my level A2. I am grateful that Maribi is very patient in teaching us. She is very encouraging. The exercises are a lot but they are needed to help me drill with the Spanish language very well. I am grateful to have the conversation every Friday for it helps me to really sit down and work on my Spanish. I like the animation and the presentations in the course. I am glad that I can always go back to the different topics with ease.
Thanks a lot.
Eunice Siangani, Nairobi (Kenya)
My name is Eunice. In August last year (2015) I needed to learn Spanish really fast in order to begin a university course in an college where the subjects are taught in Spanish. I learnt of this Spanish language online course through a friend but then I thought it was too complicated and I would probably not have the time needed to do it. When I finally enrolled, I discovered that the lessons and homework to be done are short and to the point and being online, could be taken at anytime and anywhere and at one's own pace. In addition, the weekly skype conversation with the teachers boosts confidence in such a way that I gradually began to speak Spanish really soon after starting. I started at the most basic level and in less than four months I could understand conversations and speak a great deal. Thank you Hispanic Horizons!
Vel Dayo, Cebu (Philippines)
I have just finished the 2nd level of my Spanish online course with Hispanic Horizons (Feb 2016).
It was a very good experience and I have really learned a lot.
I took some units of Spanish in college but I have forgotten most of it.  And it was mostly about studying the grammar and answering exercises.
While being in the e-learning course, it helped me study Spanish while practicing different skills: writing, listening, speaking.
The exercises and activities are well-thought out and varied. Aside from answering tests, I also watched interesting videos, wrote essays and dialogues, etc. And even though it was an online course and I can do it according to my own pace, there was also a chance for interaction with the weekly conversations with the teacher and my classmates.
I truly believe that I have learned Spanish better with this online course.  I am now more confident in reading Spanish books, writing in Spanish and even entering into conversation with a native speaker.
Thanks a lot to the people behind Hispanic Horizons!
*Note: We do not share on the website any of the email addresses or contact numbers of our students in order to keep their privacy. If you wish to contact them, please get in touch with us.