Spanish E-Learning
100 hrs. Workload per level 
Take our Spanish classes online via our E-learning platform, at any time, and from anywhere in the world, and obtain a certification of international prestige. 
Levels A1, A2, B1
We have 3 levels available online as of now: A1, A2, B1.
Join a course any time
You can join an online course any time. You will have access to the course for 6 months from the time you register.
About our E-Learning Courses
Learn Spanish online, from anywhere in the world
Do you want to learn Spanish but maybe you do not have the time to come for a regular class to Hispanic Horizons or maybe you live far away? You can benefit from our Spanish classes Online via our -E-Learning platform,  from the comfort and convenience of your office or home. We offer you top notch online Spanish lessons. Access our online platform (not fixed timings) at anytime and from anywhere.
You can check all our next courses (online and classroom) here.
CLASSES
Our Online Courses
User-friendly Online Platform
The online platform is very easy to use. One does not need to know technology to manage, just a very basic Intenet and computer usage.
A tutor to guide you
There are 2 native tutors per course to follow the students, encourage them, solve their questions & correct their assignments.
Interactive methodology
The courses are very interactive, and there are continuous  online assignments  to evaluate the progress of the student. 
Practice of all the Spanish skills
Each course has the necessary material & multimedia  to practice  all the skills (oral and written, grammar and vocabulary).
Forums to interact with your classmates
There are forums to discuss different topics, and to foster the interactions among the students.
Around 100 hrs workload per level
The course duration is around 4 months, & will be open for around 6 months. We recommend each student to dedicate around 4 hrs. a week.
Native teachers
All the online program teachers are from Spain and Latinoamerica, with between 15-20 years of teaching experience, and highly qualified. 
Levels A1, A2, B1
We offer leves A1, A2 and B1 online as of now. If you wish to take any higher level online, you can do it via video conferencing. 
Certification of international prestige
A certificate is given after the successful completion of the online course,  with Instituto Cervantes acreditation logo.
Please note: Conversation classes one to one are not included in the E-learning course fee. If anyone wishes to take conversation classes along with the E-Learning classes, can do so at an additional cost.
CLASSUES
Upcoming E-Learning Courses
GSO-63, Level A1, 100 hrs.
Join any time of the year. 
Access to the course: 6 months. 
Rs. 11, 000 + GST / USD 155 + GST.
GSO-64, Level A2, 100 hrs.
Join any time of the year. 
Access to the course: 6 months. 
Rs. 11, 000 + GST / USD 155 + GST.
GSO-65, Level B1, 100 hrs.
Join any time of the year. 
Access to the course: 6 months. 
Rs. 11, 000 + GST / USD 155 + GST.
Elearning courses:
All the content of the ELearning courses is in Spanish with annotations in English for new vocabulary and some clarifications. We believe that teaching in Spanish help the students to be inmersed in the langiage from the beginning. Thankd to the annotations and pictures, students can follow the course without any problem. 
OBJECTIVES
Course Objectives & Outcomes
After level A1, the students:
*Can understand and use familiar everyday expressions and very basic phrases aimed at the satisfaction of needs of a concrete type.
*Can introduce themselves and others and can ask and answer questions about personal details such as where he/she lives, people they know and things they have.
*Can interact in a simple way provided the other person talks slowly and clearly and is prepared to help when required.
After level A2, the students
*Can understand sentences and frequently used expressions related to areas of most immediate relevance 
*Can communicate in simple and routine tasks that require a simple and direct exchange of information on familiar and routine or daily matters.
*Can describe in simple terms aspects of his/her background, immediate environment and matters in areas of immediate need.
After level B1, the students
*Can understand the main points of clear standard input on familiar matters regularly encountered in work, school, leisure, etc.
*Can deal with most situations likely to arise where the language is spoken.
*Can produce simple connected text on topics that are familiar or of interest.
*Can describe experiences and events, dreams, hopes and ambitions and briefly give reasons and explanations for opinions and plans.
TESTIMONIALS
What Our Students Say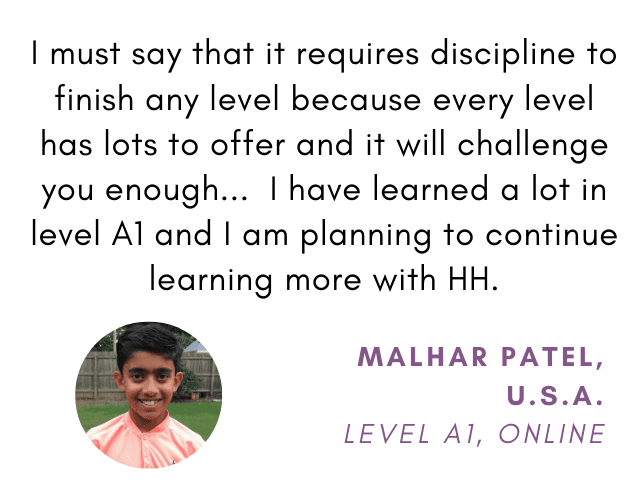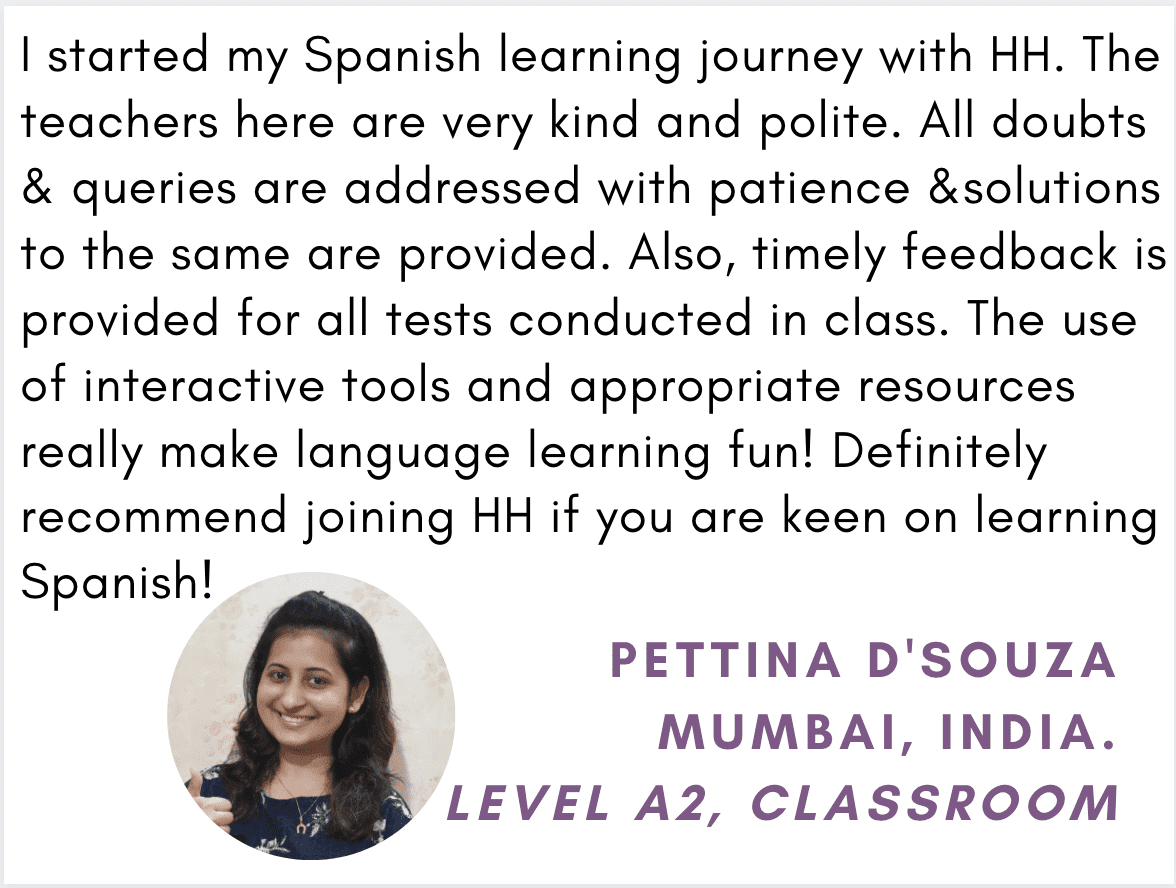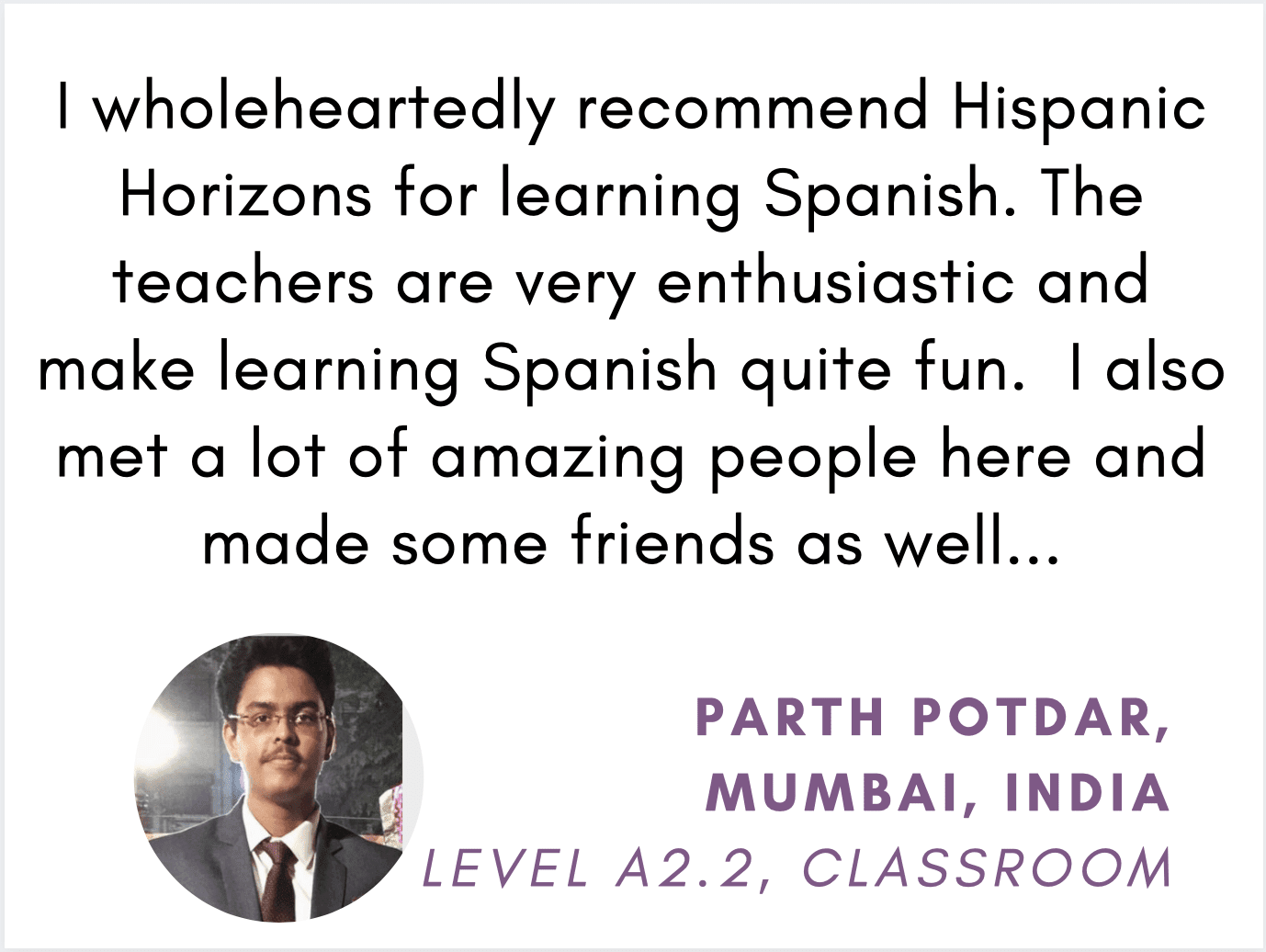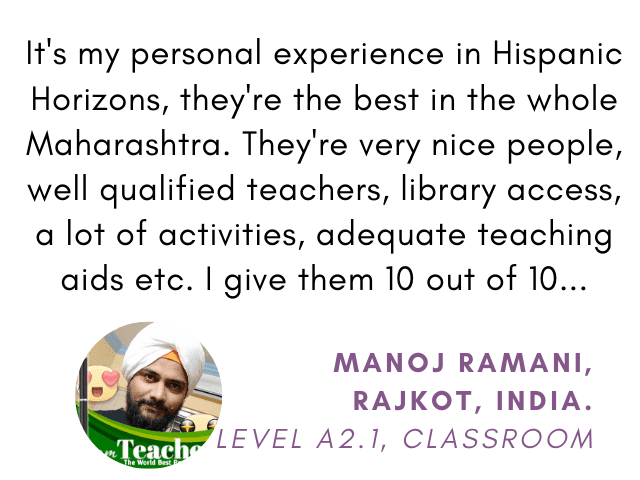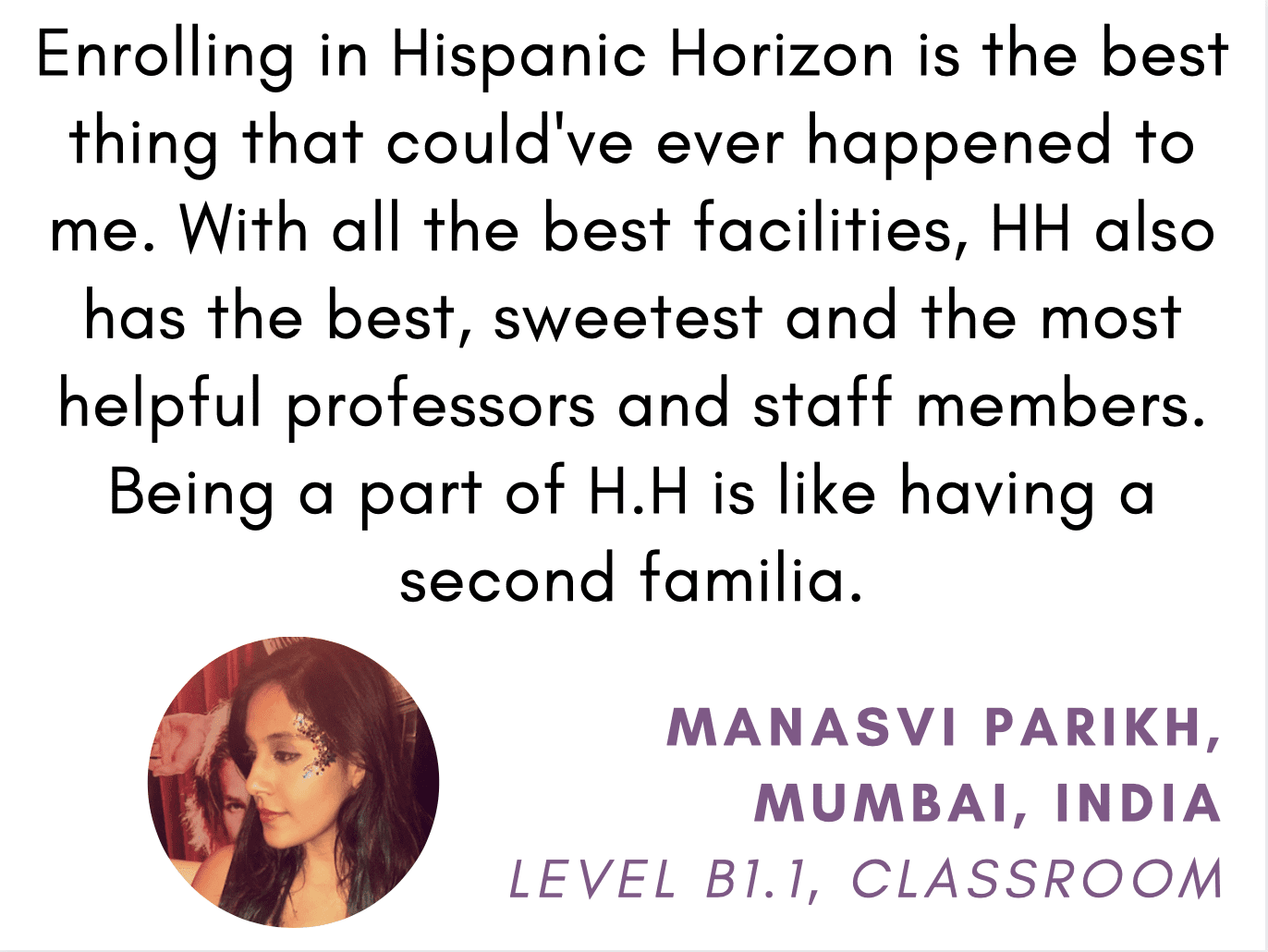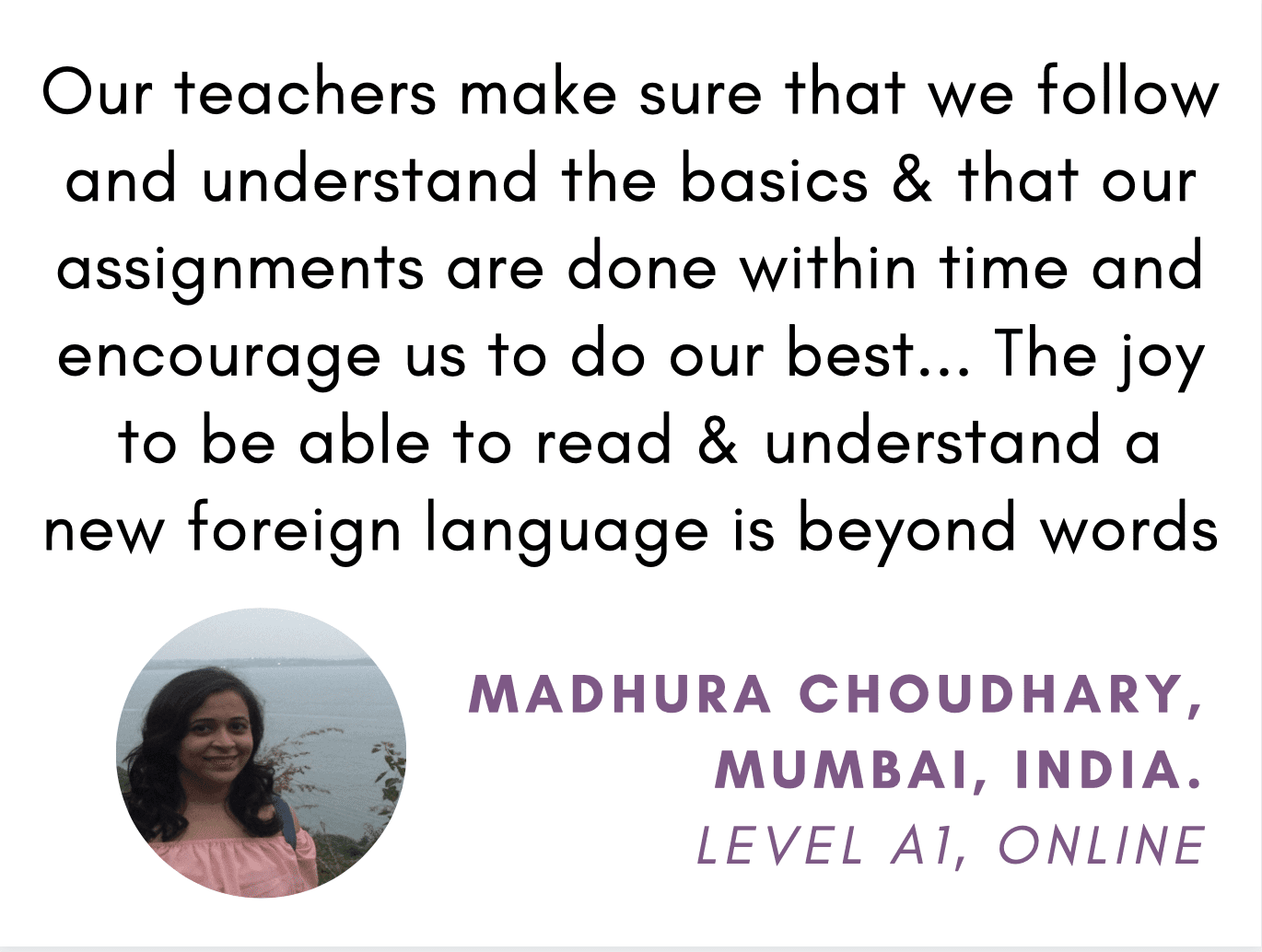 Book A Course Today!
Choose the most suitable Spanish Course for you & change your future!
View Courses
Contact Us
Accreditations & Collaborations