Young Learners (10 to 12 years old)
50 hrs. cOURSE per level
Take our Spanish classes via videoconference from anywhere in the world, and obtain a certification of international prestige. We have Spanish classes for young learners, to introduce them to the beautiful Hispanic language and culture form a young age.
Levels A1 and A2, distributed across 6 levels A1.1; A1.2, A2.1, A2.2, A2.3, A2.4.
These Spanish courses are suitable for:
-Students from 10 to 12 years old.
-Students wanting to learn a new foreign language that can broaden their horizons.
-Students who have a basic knowledge of English (only for beginners).
Check the schedule below.
We have weekday and weekend batches. If you have a group of students, contact us to plan a batch according to your needs.
YOUNG LEARNERS
Next YOUNG LEARNERS Courses
Due to the Coronavirus outbreak, we will continue offering our Spanish language classes via Videoconference 👩‍💻. Our high quality video-conference Spanish courses let you enjoy the complete classroom experience from any part of the world
. All you need is a computer or mobile phone and an Internet connection. 
You will enjoy the same high-quality language content and teaching: conversation, audiovisual material, whiteboards, assignments, group activities, role play, etc.
We have Spanish classes for students of different ages. Our students come from many different professions and backgrounds. Most of our students are Indians, but we have students of other nationalities as well. HH is open to anyone who wants to learn Spanish.
SY-41, Level A1.1, 50 hrs.-Videoconference
Saturdays & Sundays: 10:00am to 12:00pm
May 21 to September 4, 2022
Rs. 10,000 + GST (includes study material & certificate)
For youngsters 10-12 years old
Shipping charges for study material to be borne by the student
SY-42, Level A1.1, 50 hrs.-Videoconference
Mon & Thu: 11:30am to 1:30pm
May 23 to September 1, 2022
Rs. 10,000 + GST (includes study material & certificate)
For youngsters 10-12 years old
Shipping charges for study material to be borne by the student
The fees include everything: Registration, classes, examinations & international certification
OUR VIDEO-CONFERENCE COURSES FOR YOUNG LEARNERS:
Access online
Direct access with just a computer, tablet or mobile, and a good Internet connection.
From your home
Access your course from any part of the world. Course timings are mentioned in Indian Standard Time (IST).
Real time interaction
Interact directly with your teacher and classmates in real-time: games, role plays, and much more.
50 hrs. course
50 hrs. of live classes, via videoconference, plus your personal hours of study and class assignments.
Online Exams
Give the online exam and get an internationally recognized certificate from Hispanic Horizons. You will need to get 50% in the course to get your certificate.
Very economical
Given the high-quality, 50 hr. course and International prestige Certification, our course is one of the most economical you will find!
White board & screensharing
Videoconferencing system with white board, screensharing, possibility of working in groups & much more.
Maximum 10 students per class
We take a minimum of 6 students per class, and a maximum of 10 in young learners' courses, to facilitate interaction and learning.
Oral expression skills
Practice your speaking skills and get fluent and confident through the class discussions, role plays, presentations, etc.
Grammar explanations
Good and thorough grammar explanations and ample practice to give you a strong foundation for good Spanish communication.
Oral Comprehension skills
Listen, practice and understand more in Spanish with real-time audio and video content in every class.
Hispanic culture input
Learn about Hispanic culture and Spanish-speaking countries. Come discover a new world and broaden your mind.
Our Certification:
At the end of each course, the student receives a certificate of achievement.
In order to obtain the certificate of achievement, the following requirements must be met:
-Pass the oral and written exam with at least 50%.
-Have paid the course fees.
The Hispanic Horizons certificate:
-has a lifetime validity.
-has international prestige (Accredited center of Instituto Cervantes).
Our Methodology:
We adopt a methodology based on the CEFR guidelines, the content description of the Cervantes Institute Curriculum, and various adaptations to the target audience. Each teacher who joins the center receives an extensive training.
Our teaching methods emphasize a communicative approach, including the development of all oral and written Spanish skills, grammar in context, and the awareness of sociocultural aspects.
We use Google Classroom in our courses that facilitates communication and sharing materials and homework.
The teacher guides and encourages the students throughout their learning process. 
In the courses for young learners, we put more emphasis in the gamification of the classes: songs, games, interactive activities, etc.
Materials used for young learners: A1.1 to A2.4:
Level A1.1: Exercise book A1.1, Hispanic Horizons + other complementary materials.
Level A1.2: Exercise book A1.2, Hispanic Horizons + other complementary materials.
Level A2.1: Exercise book A2.1, Hispanic Horizons + other complementary materials.
Level A2.2: Exercise book A2.2, Hispanic Horizons + other complementary materials.
Level A2.3: Exercise book A2.3, Hispanic Horizons + other complementary materials.
Level A2.4: Exercise book A2.4, Hispanic Horizons + other complementary materials.
Class rules:
-Keep the video on (Zoom class).
-Mute yourself when you are not talking (Zoom class).
-Listen to others.
-Be punctual.
-Be respectful towards everyone.
-Do not eat in class.
-Participate actively.
OBJECTIVES
Course Objectives & Contents
Level A1
*Can understand and use familiar everyday expressions and very basic phrases aimed at the satisfaction of needs of a concrete type.
*Can introduce themselves and others and can ask and answer questions about personal details such as where he/she lives, people they know and things they have.
*Can interact in a simple way provided the other person talks slowly and clearly and is prepared to help when required.
Level A2
*Can understand sentences and frequently used expressions related to areas of most immediate relevance 
*Can communicate in simple and routine tasks requiring a simple and direct exchange of information on familiar and routine matters.
*Can describe in simple terms aspects of his/her background, immediate environment and matters in areas of immediate need.
COURSES
Our Spanish Language Classes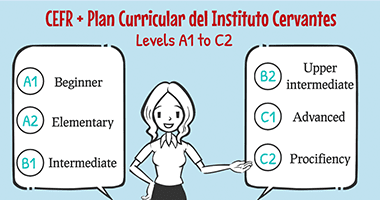 Spanish A1 to C2 (Group classes)
70 HRS per course 
We offer 11 levels of Spanish language classes (A1 to C2 of CEFR). Our levels are based on the Curricular Plan of Instituto Cervantes. We focus on overall language acquisition – Reading, Listening, Written and Oral skills in each course of 70 hours.
DELE Exam preparatory courses
18 HRS. PER COURSE
We offer DELE preparatory group courses for all the levels, of 18 hrs. each. We also offer Spanish private tuitions to prepare for the DELE exam. Many of our teachers are DELE certified examiners.
Spanish for children (levels 1 to 4)
30 or 50 HRS. PER COURSE
We offer  classes for children especially designed for their age. There are 2 groups:  6 – 9 years old (4 levels of 30 hrs. each); 10 – 12 years old (6 levels of 50 hrs. each: A1.1; A1.2; A2.1; A2.2; A2.3; A2.4).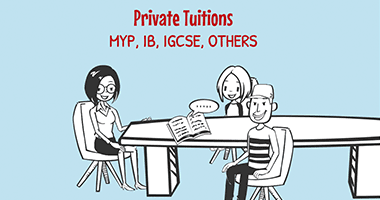 Private tuitions (IGCSE, MYP, IB)
customized PACKAGES
We conduct private or group Spanish tuitions for IGCSE, MYP & IB students. They can be conducted at the Hispanic Horizons premises, or at your home. We offer private tuitions for adults as well.
Spanish in schools, colleges & universities
ACCORDING TO THE REQUIREMENTS
We offer well trained and experienced Spanish teachers to teach Spanish in international schools & universities. Get in touch with us if you need a Spanish teacher for your educational institution.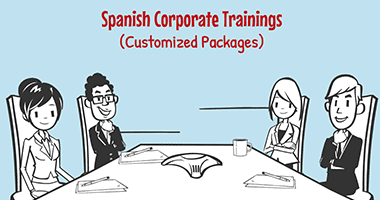 Spanish language corporate trainings
Customized packages 
If you need a Spanish course for a specific purpose, then we can program and adapt  to the needs of your company. Get in touch with us if you need Spanish for the employees of your company.
TESTIMONIALS
What Our Students Say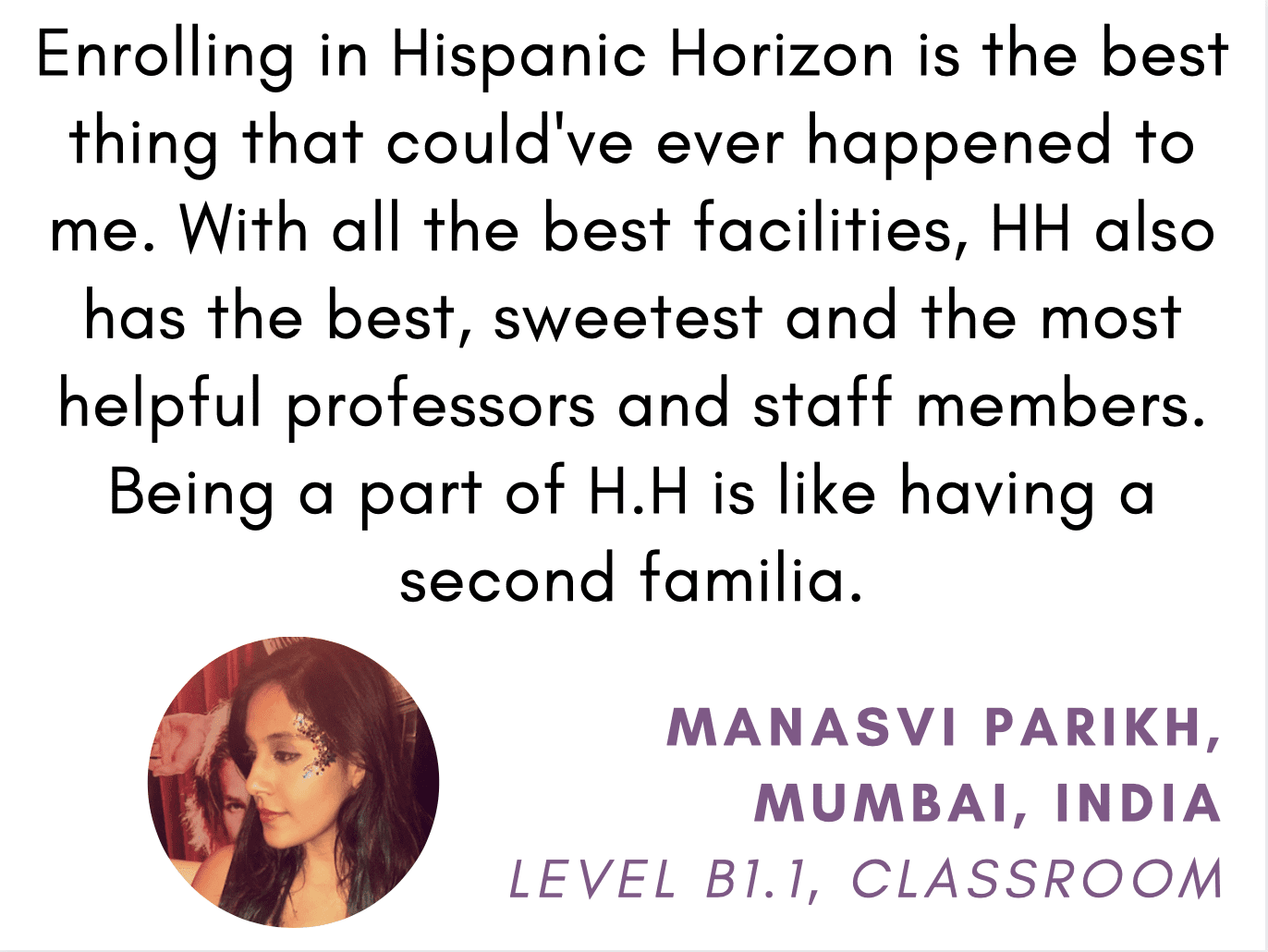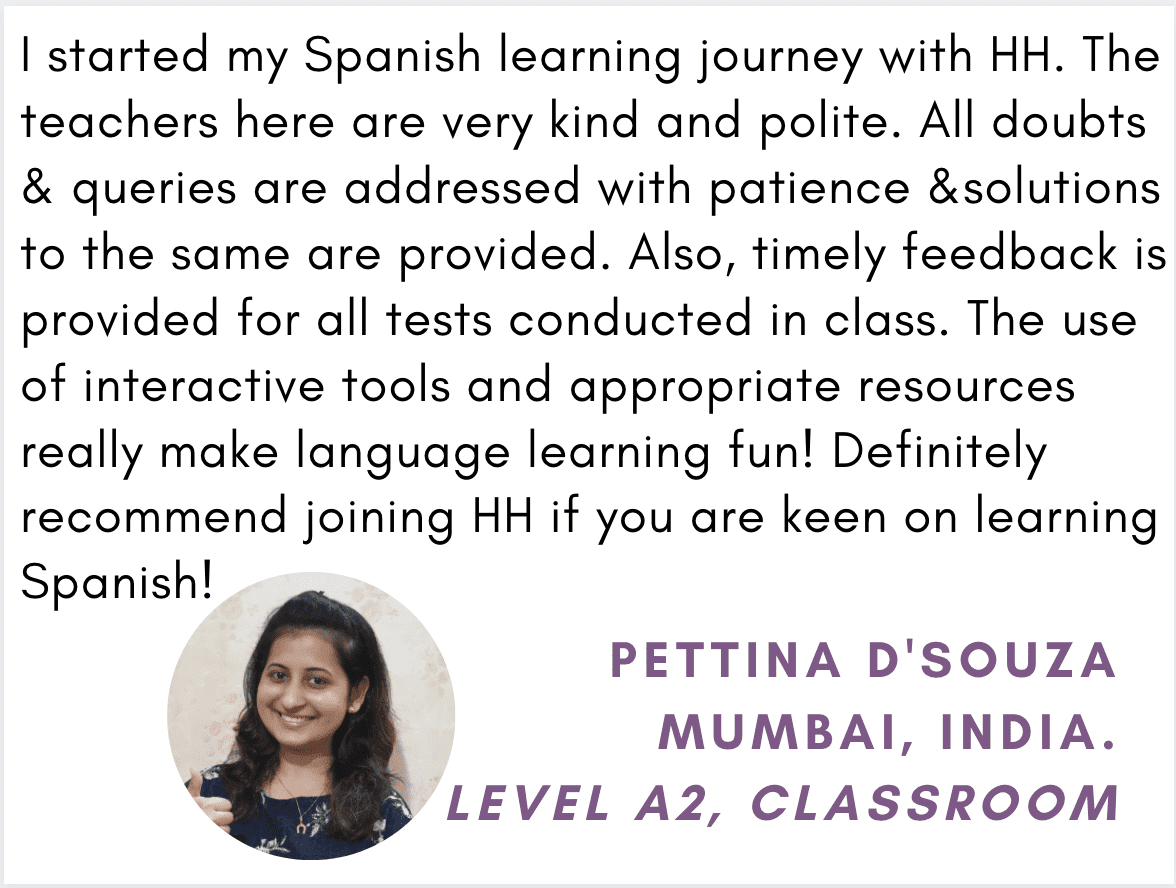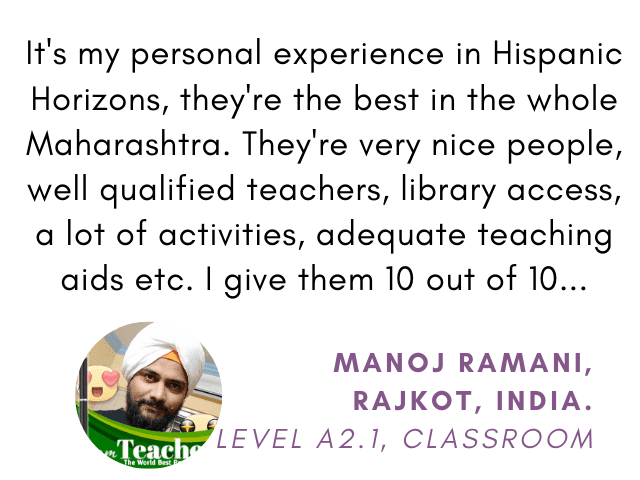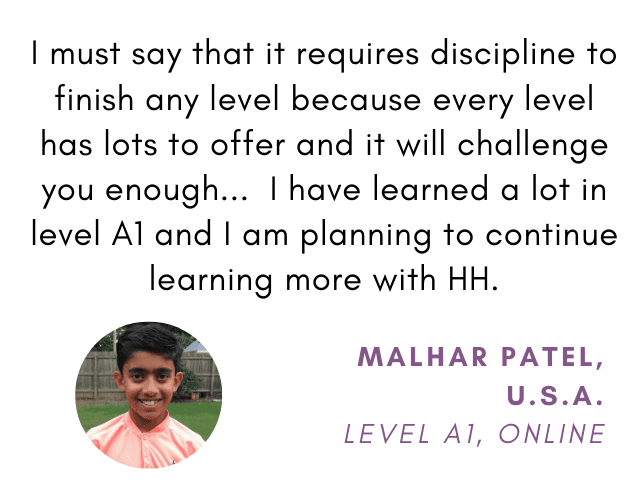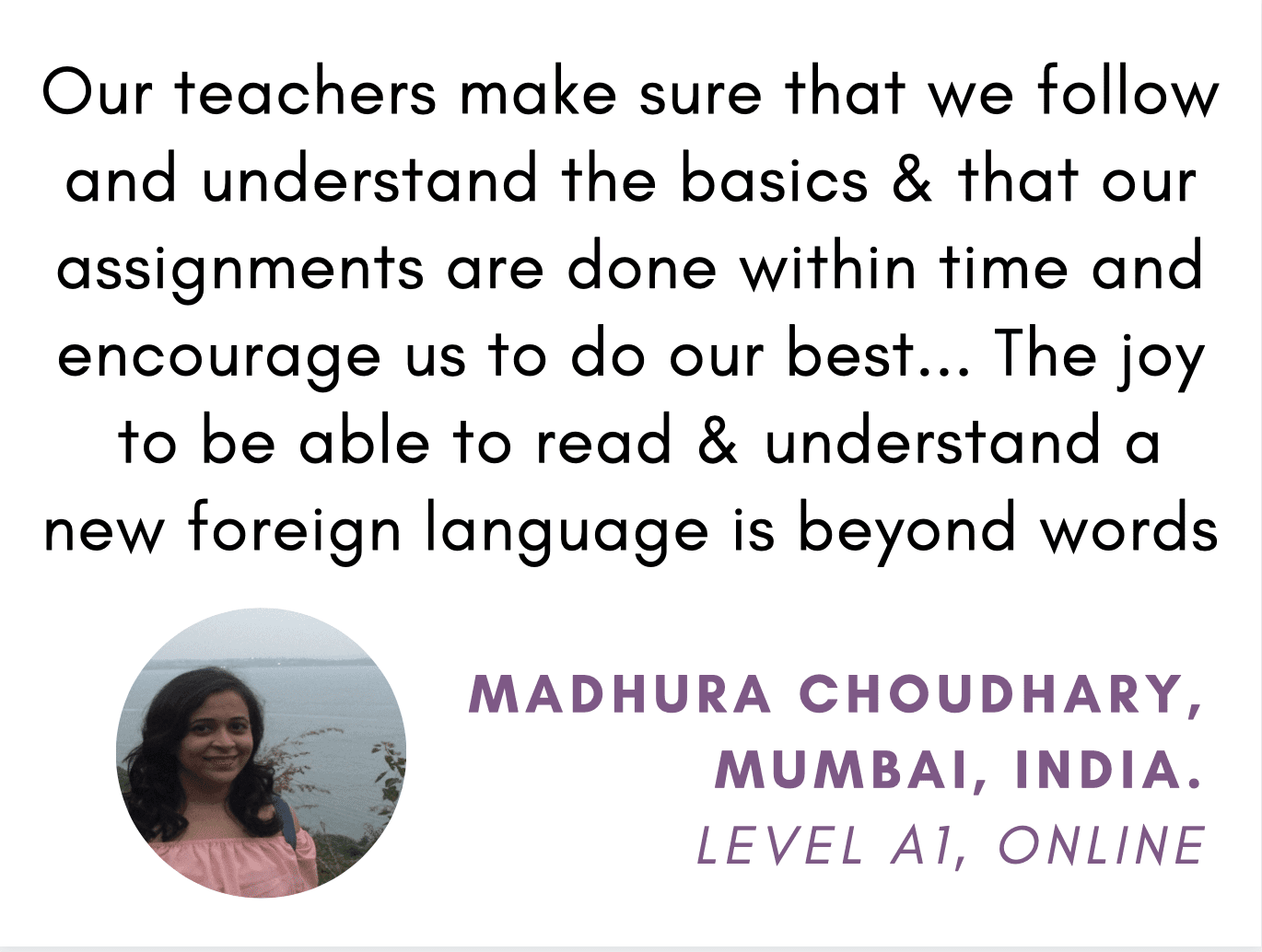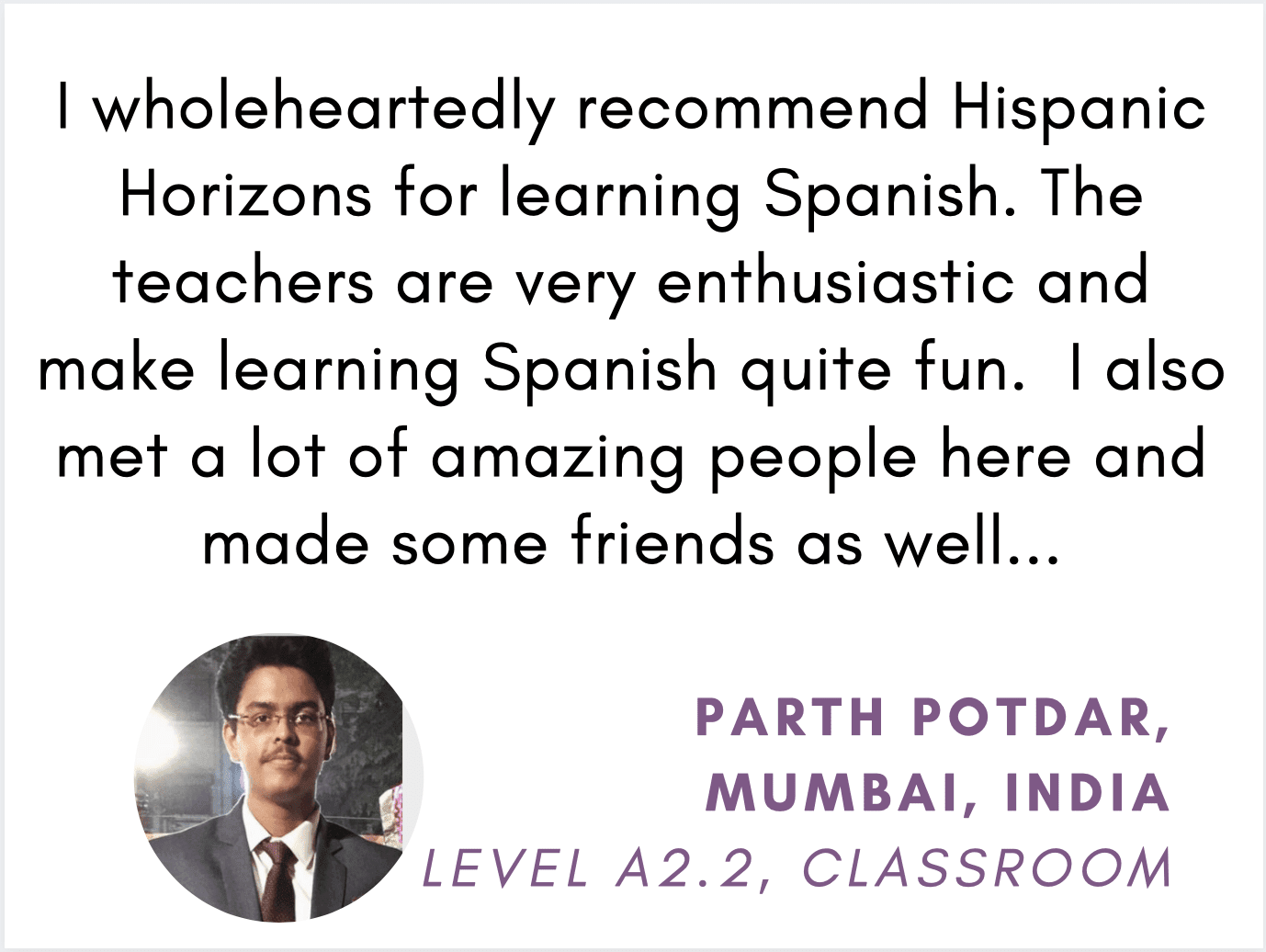 Book A Course Today!
Choose the most suitable Spanish Course for you & change your future!
View Courses
Contact Us
Accreditations & Collaborations